Description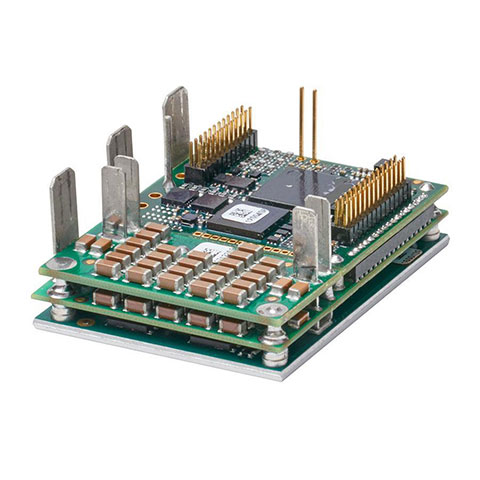 Gold Double Twitter
180A/60V, 160A/80VDC, 140A/100V, 70A/200V
The Most Advanced and Powerful Miniature Servo Drive in the World (single axis drive with double power).
Provides over 11,000 Qualitative Watts.
The Ultra High Current Gold Double Twitter which can deliver  over 11,000 r in a 32 cm3(2 Inch3) compact package 47 x 36.2 x 18.8 mm (1.85″ x 1.425″ x 0.74″). The Gold Double Twitter is designed to be mounted on a PCB by soldering its pins directly to the PCB.
This advanced, high power density servo drive provides top performance, advanced networking and built-in safety, as well as a fully featured motion controller and local intelligence. Power to the Gold Double Twitter is provided by a DC power source which is isolated from the Mains. The Gold Double Twitter can operate with single or dual power supplies. If separation between the main DC power source and a control supply is required, then a control supply (isolated from the Mains) is required.
The Gold Double Twitter can operate as a stand-alone device or as part of a multi-axis system in a distributed configuration on a real-time network. The drive is easily set up and tuned using the Elmo Application Studio (EASII) software tools, and is fully programmable with the Elmo motion control languages.
Gold Double Twitter Highlights:
High power density, over 11,000 of "Qualitative" Watts
Ultra high current – up to 180A/60V, 160A/80V, 140A/100V. 70A/200V
Record-setting weight of only 33 grams (less than 1 ounce)
Ultra Small, Ultra Efficient, designed to be mounted on a PCB
Advanced networking by EtherCAT Or CANOpen
Wide Operating voltage ranges:

"60VDC", 11VDC-55VDC
"80VDC",11VDC- 75VDC
"100VDC", 11VDC- 95VDC
"200VDC", 20VDC- 195VDC

Supports any feedback sensor in single, dual and gantry loop configurations
Incorporates Proprietary "Fast and Soft Switching Technology" resulting in >99% efficiency yet negligible EMI
Feature

Units

D180/60

D160/80

D140/100

D40/200

D70/200

Minimum supply voltage

VDC

11

11

11

20

20

Nominal supply voltage

VDC

45

65

85

170

170

Maximum supply voltage

VDC

55

75

95

195

195

Maximum continuous
Electrical power output

W

8,600

10,000

11,000

6,400

11,000

Efficiency at rated power
(at nominal conditions)

%

> 99

Maximum output voltage

 

Up to 96% of DC bus voltage

Amplitude sinusoidal
continuous current

A

180

160

140

40

70

Sinusoidal continuous RMS current limit (Ic)

A

127

113

99

28

49

Current limit

A

Max Output current is guaranteed for THeat-Sink  <85°C
Feature

Units

All Types

Weight without Heatsink

g (oz)

EtherCAT Version: ≈36 g (1.27 oz)

CAN Version: ≈33 g (1.16 oz)

Weight with Heatsink

g (oz)

EtherCAT Version: ≈67 g (2.36 oz)

CAN Version: ≈64 g (2.29 oz)

EtherCAT/CAN Version Dimension without Heatsink

mm (in)

47 x 36.2 x 18.8 mm (1.85" x 1.425" x 0.74")

EtherCAT/CAN Version Dimension with Heatsink

mm (in)

61 x 47 x 22.8 mm (2.4" x 1.85" x 0.9")

Mounting method

PCB mount

IP

IP00