Description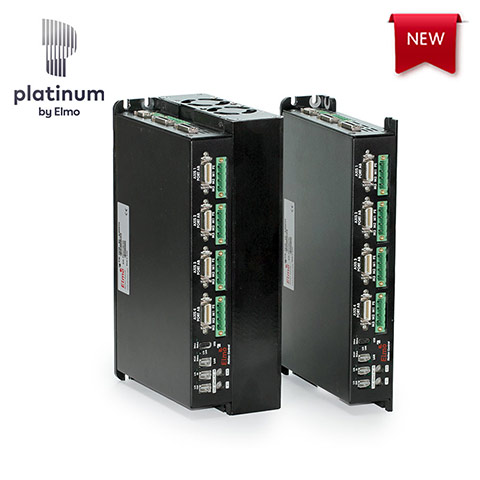 New Era In Servo Control
Composer2, Software in the Loop Powerful Drive's Capability
Ultra Compact, A Complete 4 Axis,
Motion Control System, 4 X 16A Continuous, 400VDC
The Platinum String Quartet is an integrated solution delivering up to 8000 W of continuous power in a compact package (224 x 133 x 80 mm or 8.82″ x 5.24″ x 3.15″).
This advanced, high power density servo drive provides top performance, functional safety, advanced networking, as well as a fully featured motion controller and local intelligence.
The Platinum series was designed to meet the evolving needs of OEM designers for smarter, smaller, faster servo, with higher functionality and ease-of-use. Platinum drives aim to assist machine and robot manufacturers in creating better machines through both superior motion-control and utmost safety.
Platinum String Quartet HighlightsNEW
A compact, ready to use advanced multi-axis motion controller + 4 smart servo drives
Most powerful, 16A ( 30A peak) each drive at 400VDC
Advanced multi-axis control capabilities
Fast EtherCAT Networking
Functional Safety: STO (SIL3, PLe,CAT3)
Platinum Series HighlightsNEW
Best-In-Class servo performance
Higher bandwidth, faster response, enhanced linearity and highest control resolutions
Ultra-efficient EtherCAT with cycling down to 100us, high synchronization with negligible jitters and near zero latency
Added feedback support: up to three simultaneously, or two absolute feedbacks
Composer2, Proprietary Drive Level SIL( Software In The Loop), allows running customer's control algorithms within the drive's real-time
High processing power with large memory resources for better control, enhanced processing, and real time recording
Feature

Units

6/400

16/400

Minimum supply voltage

VDC

50

Nominal supply voltage

VDC

325

Maximum supply voltage

VDC

400

Maximum continuous power output

W

2000W per axis
and 8000W total

5500W per axis
and 10400W total

Efficiency at rated power (at nominal conditions)

%

> 98

Maximum output voltage


> 95% of DC bus voltage


Amplitude sinusoidal/DC continuous current

A

6 (per axis)

16 (per axis)

RMS (sinusoidal commutation) current ratings

DC

4.24 (per axis)

13.31 (per axis)

Peak current limit

A

18

30
Control Supply
Feature
Units
Units
Details
L-Shape
Fins+Fan
Control supply input voltage
V
18 to 30
24 ± 10%
24V Control supply input power consumption
Without Encoder (VL Only)
W
≤6.5
≤15
With encoder up to 4x300mA@5V
W
≤13.5
≤22
With encoder up to 4x300mA@11V
W
≤21
≤29.5
Encoder Supply
| Feature | Details |
| --- | --- |
| 5V supply | 5VDC Nominal, 4.75V÷5.25V; up to 300mA (for each Axis) |
| 11V supply | 11VDC Nominal, 10.6V÷11.5V; up to 300mA (for each Axis) |
Feature

Units

All Types

L-shape model Weight

g (oz.)

~980 g (~34.57 oz)

Fins and Fan model Weight

~2630 g (~92.77 0z)

L-shape model Dimension

mm (in)

224 x 133 x 38.3 mm (8.82" x 5.24" x 1.51")

Fins and Fan model Dimension

224 x 133 x 80 (8.82" x 5.24" x 3.15")

Mounting method

Bookshelf