Description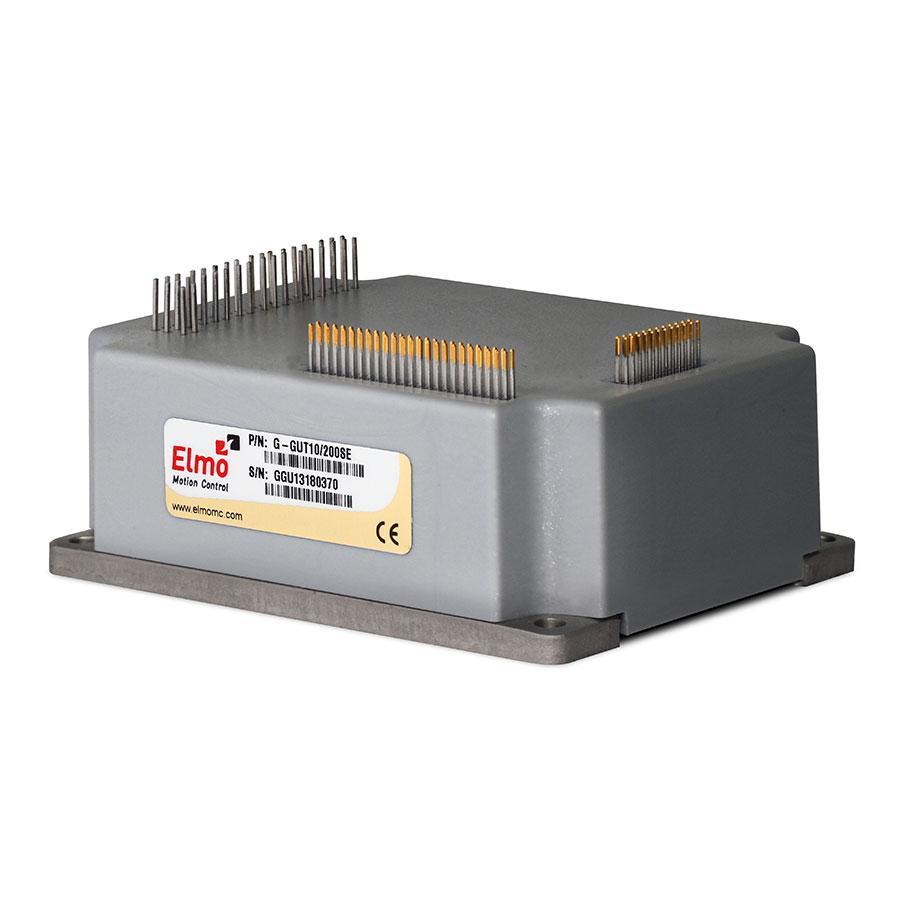 Super Compact, Network-based Servo Drive
Up to 50 A/100 V and 20 A/200 V
A uniquely flexible drive with unmatched power density
The Gold Guitar provides top servo performance, advanced networking and built-in safety, all in a small PCB-mountable package. The Gold Guitar features the industry's most comprehensive motion controller and local intelligence.
Weighing only 212 g (7.47 oz.), the Gold Guitar operates on DC power as a standalone device, or as part of a multi-axis system in a distributed configuration on a real-time network.
Like all Gold Line products, it is easily configured and tuned using the Elmo Application Studio (EAS) software environment and is fully programmable with the Elmo motion control language.
The Gold Guitar is available in a variety of models with multiple power rating options, multiple communication options, feedback options and I/O configuration possibilities.
Gold Line core motion control technology
Ultra-compact, with the highest power density in its class
Drives any servo motors, up to 5000 W continuous and 10,000 W peak power
Field Bus Communication: EtherCAT, CANopen
USB, Ethernet, RS-232
Supports a wide variety of feedback sensors
Advanced filtering and gain scheduling options for enhanced dynamic performance
Extremely efficient, over 99%
Feature

Units

20/100

35/100

50/100

10/200

17/200

20/200

Minimum supply voltage

VDC

14

23

Nominal supply voltage

VDC

85

170

Maximum supply voltage

VDC

95

195

Maximum continuous power output

W

1600

2800

4000

1650

2800

3240

Efficiency at rated power
(at nominal conditions)

%

> 99

Maximum output voltage

VDC

14 V to 96 V

23 V to 195 V

Continuous current limit (Ic)
amplitude of sinusoidal current, or
DC trapezoidal commutation

A

20

35

50

10

17

20

Sinusoidal continuous RMS current limit (Ic)

A

14.2

24.7

35.4

7.07

12

14.3

Peak current limit

A

2 x Ic

Weight

g (oz)

212 g (7.47 oz)

Dimensions

mm (in)

80 x 61 x 31 mm (3.15" x 2.4" x 1.2")

Digital in/ Isolated
Digital output/

Non-Isolated
Digital output/ Analog in

 

6/2/2/2

Mounting method

 

PCB mount